Ha Long tourist spot – a city in Quang Ninh province, is a place worth traveling with your friends and family on holiday or summer.
HA LONG TOURIST SPOT- "GOLDEN PLACE" FOR WONDERFUL VACATION.
Ha Long tourist spot, considered one of the most famous tourist destinations in Vietnam, is a very interesting place for tourists who love to explore. Coming to this city, besides Ha Long Bay, there are many other places for you to visit. So, to know more, let's explore this city with Kim's motorbike rentals now!
1.Ha Long tourist spot  's highlights attractions:
This is a place recognized by UNESCO  as a world cultural heritage. With its wild and unique beauty and diverse ecosystem, Ha Long Bay can make those who have come to visit remember forever. This place has a very beautiful system of rocky islands and caves, formed over many years, going through many historical periods of Vietnam. Therefore, it is considered the pride of Quang Ninh province, becoming one of the largest tourist cities in our country.
Coming to Ha Long tourist spot, you can't forget to visit Ha Long old town. It is located next to Sun World park. Ha Long Old Town is a simulation of Hanoi Old Quarter and Hoi An Ancient Town in a subtle way. With the dominant yellow tone, this neighborhood is designed with a combination of modern and classic, creating separate architecture at each street corner. This will be a beautiful location for you to take photos and enjoy the combined space between the two most famous old streets of Vietnam right in Quang Ninh province.
Address: 10km from the Bai Chay port
People call it Soi sim island because there are many green Isenberg bushes here. Soi Sim Island is one of the most appreciated islands of Ha Long tourist spot. Coming to the island, visitors will be immersed in the fresh air, romantic and majestic scenery. The island also has a large beach with clear water, surrounded by shimmering purple flowers. If you are a person who likes to experience unspoiled places, without too much human impact, this is a very suitable place for you.
Address: Hang Noi,  Ha Long city, Quang Ninh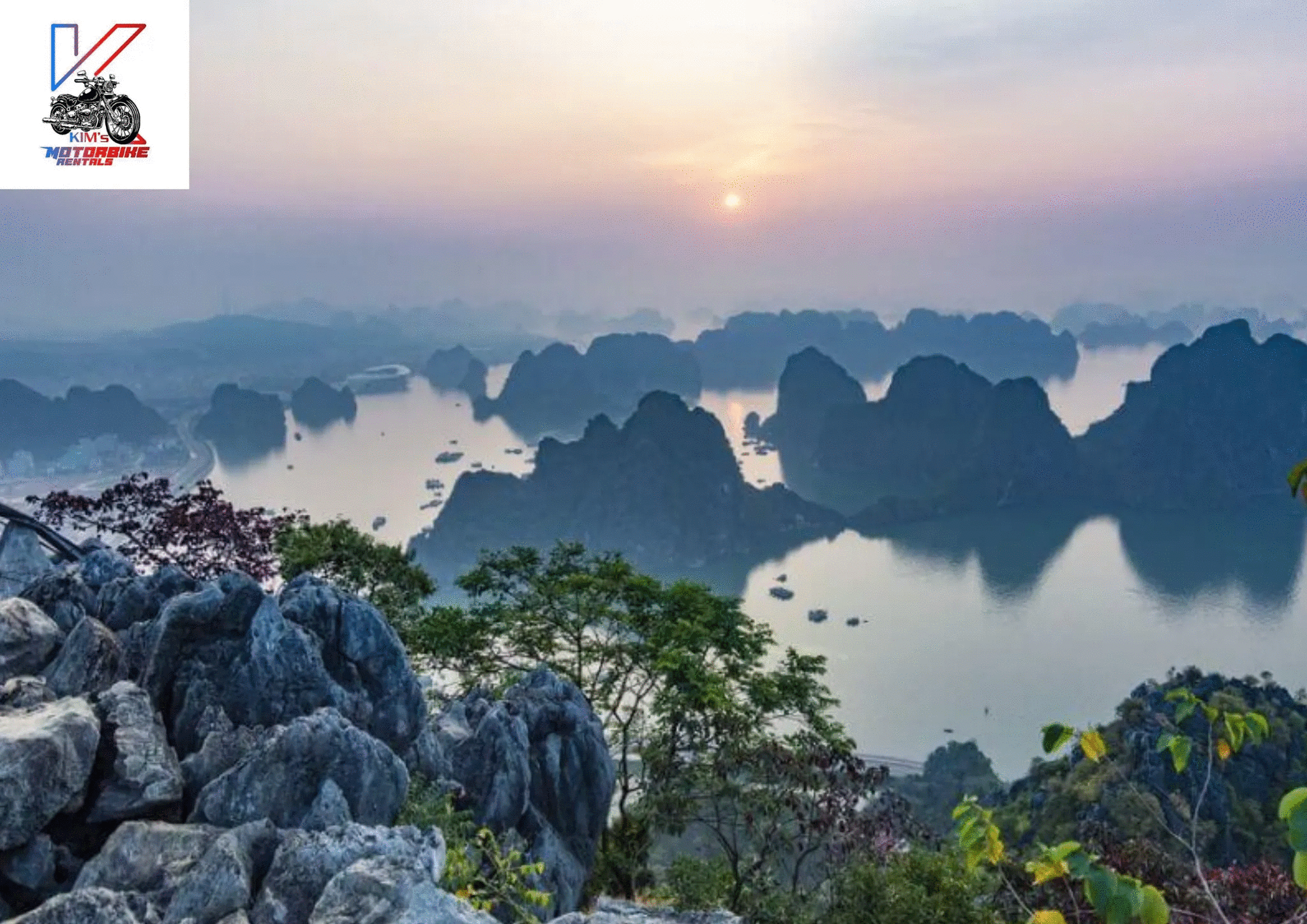 This is the place where you can see the full view of the bay and Ha Long city from the top. Bai Tho Mountain is a limestone mountain located in the center of Ha Long tourist spot. On the mountain is still engraved the poem of the famous king of our country in the past: King Le Thanh Tong, writing about the majestic scenery of the Ha Long bay and the wonderful view here. On the other hand, conquering and going to the top of the mountain is also one of the interesting experiences praised by many tourists.
Another prominent place of Ha Long tourist spot is Bai Tu Long Bay. The bay is associated with the legend of dragons. Legend has it that the Jade Emperor sent the mother dragon and baby dragon down to the island to help the people fight the enemy, when the dragon landed on the island, he spewed out treasures, forming islands, large and small rocks to prevent the enemy's boats, the position of the mother dragon standing called Ha Long, and the position of the baby dragon is Bai Tu Long Bay.
The bay consists of 600 large and small islands, notably Bai Tu Long National Park and a chain of three islands of Trà Ngọ, Ba Mùn and Sậu. Visitors to this bay will have the opportunity to experience the life of fishermen on the island.
Vinpearl Resort & Spa is the only resort located entirely on the sea. The building has a magnificent bow-shaped design inspired by the theater of the city of Rennes – France and a system of luxurious rooms, opening views of the magnificent scenery of one of the seven natural wonders of the world. Coming to the one of the largest resorts in Ha Long tourist spot , visitors will feel like being in a large palace with extremely good service quality.
2. Travel to Ha Long and enjoy food:
When traveling, it is impossible not to enjoy the specialties of that place. Ha Long tourist spot  is famous for its rich and unique cuisine, bold national quintessence, most of which are cheap seafood dishes, surely the dishes here will make visitors unforgettable.
Some famous restaurant in Ha Long tourist spot

:
 ( address: 50 Ha Long street, Bai Chay, Ha Long, Quang Ninh)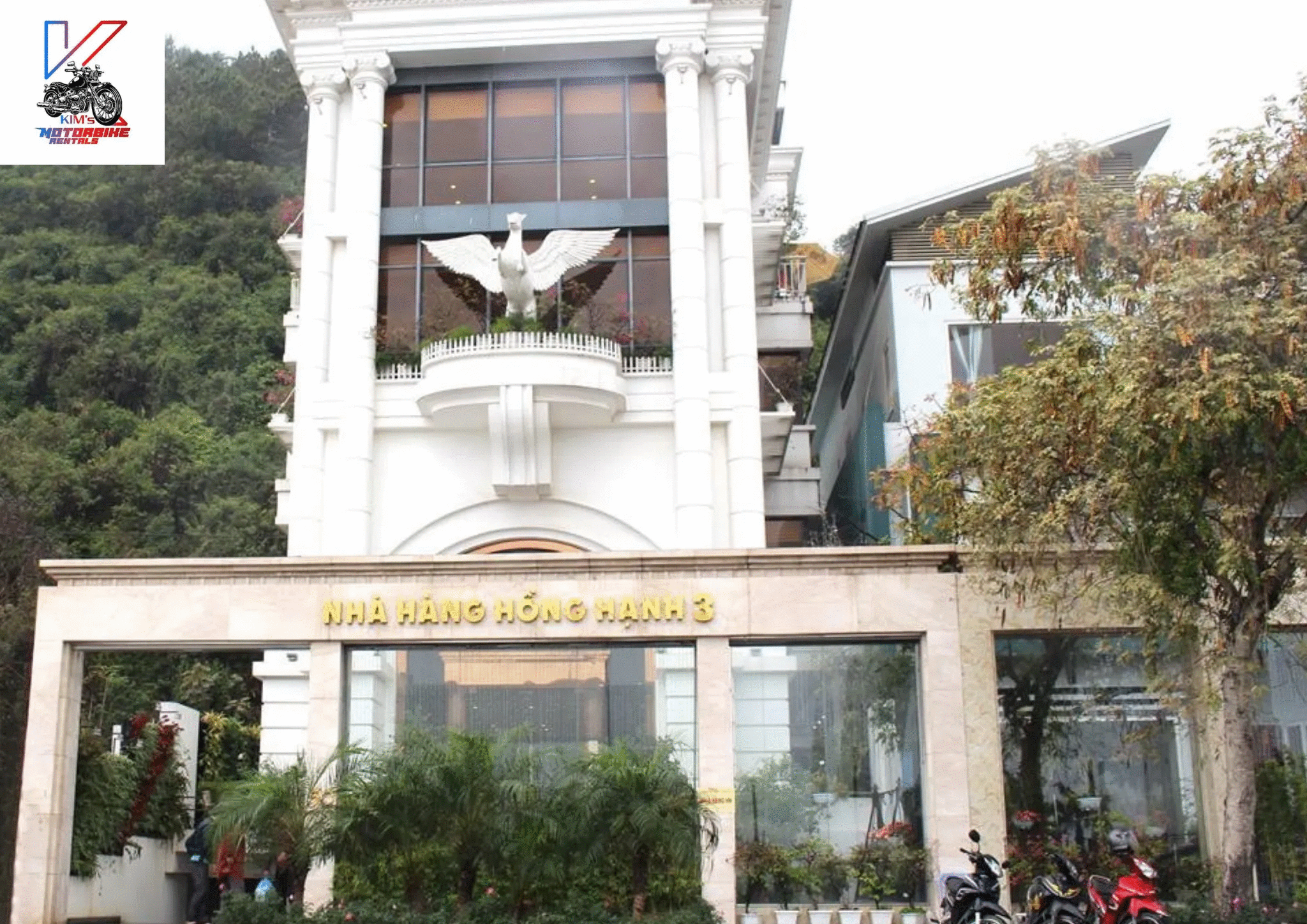 (Address: 32 Phan Chu Trinh, Bai Chay, Ha Long, Quang Ninh.)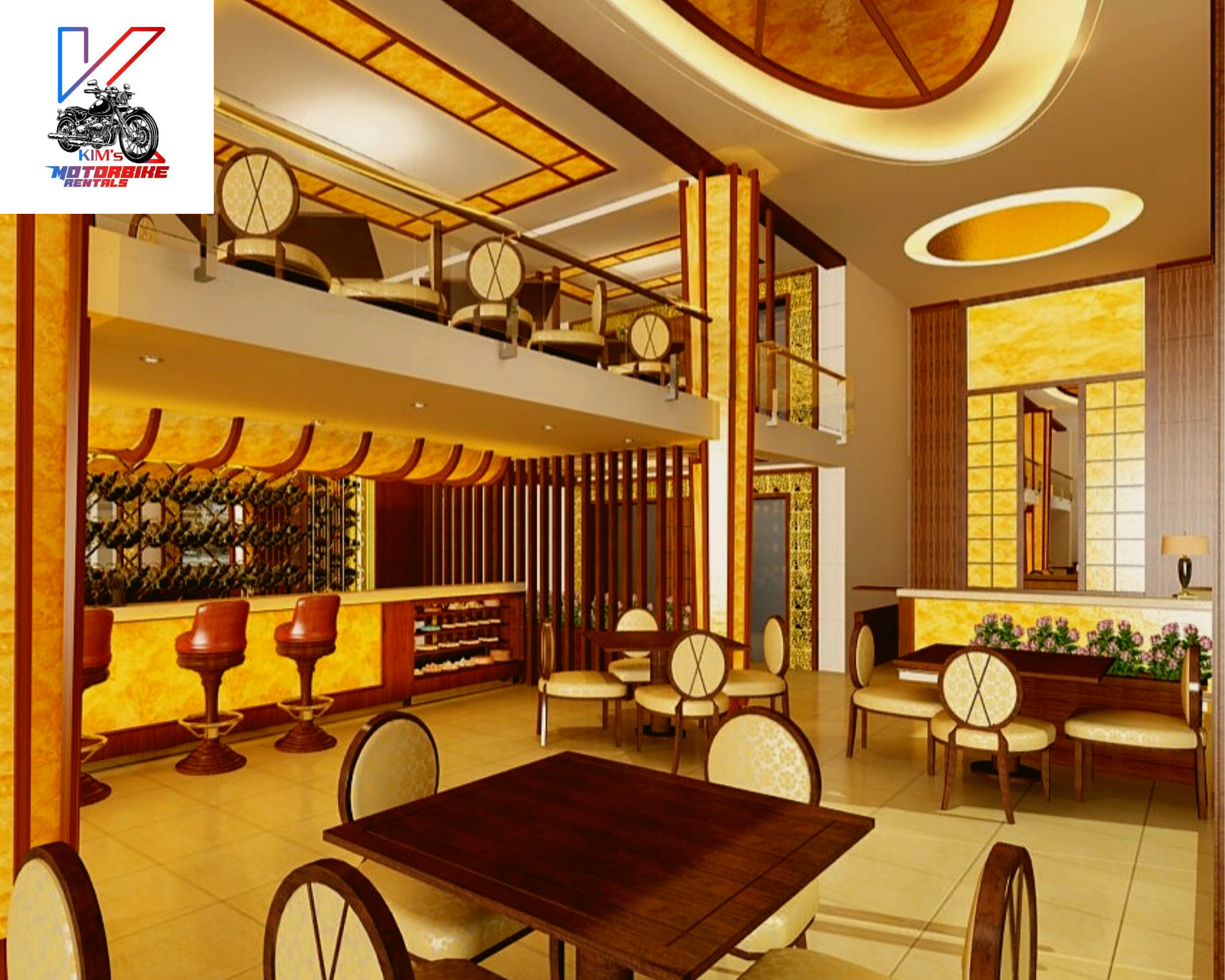 (Address: C346 – C347, Ha Long Old Town, Sun World Halong Park, Ha Long)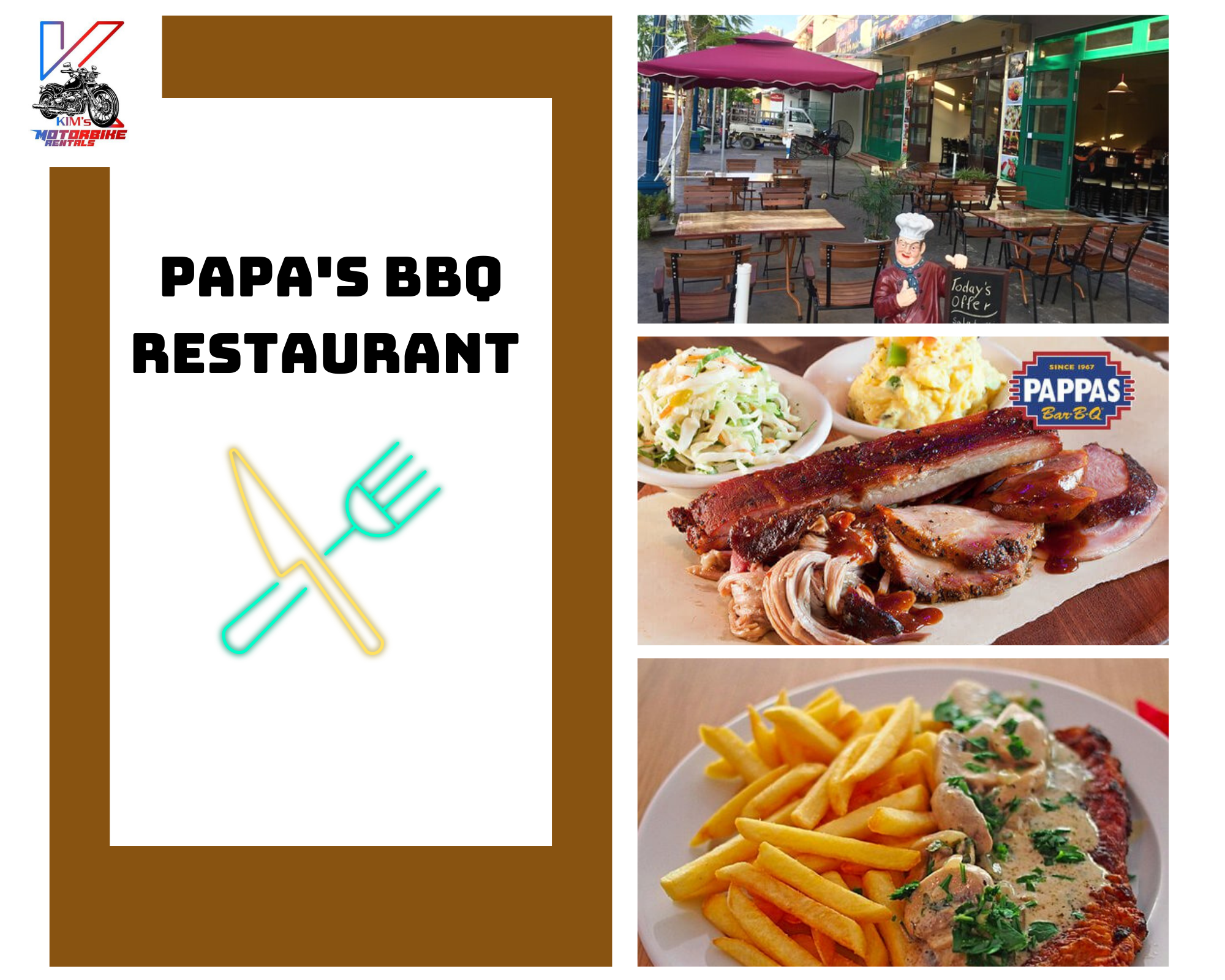 (Address:Number 87 Vuon Dao market, Bai Chay, Ha Long, Quang Ninh)
The restaurants above are all places that are highly appreciated by tourists for their quality, so you don't need to worry about the food. And if you are a vegetarian, we also have some suggestions for you:
Some restaurants in Ha Long tourist spot serve vegetarian dishes:
( address: center Ha Long City)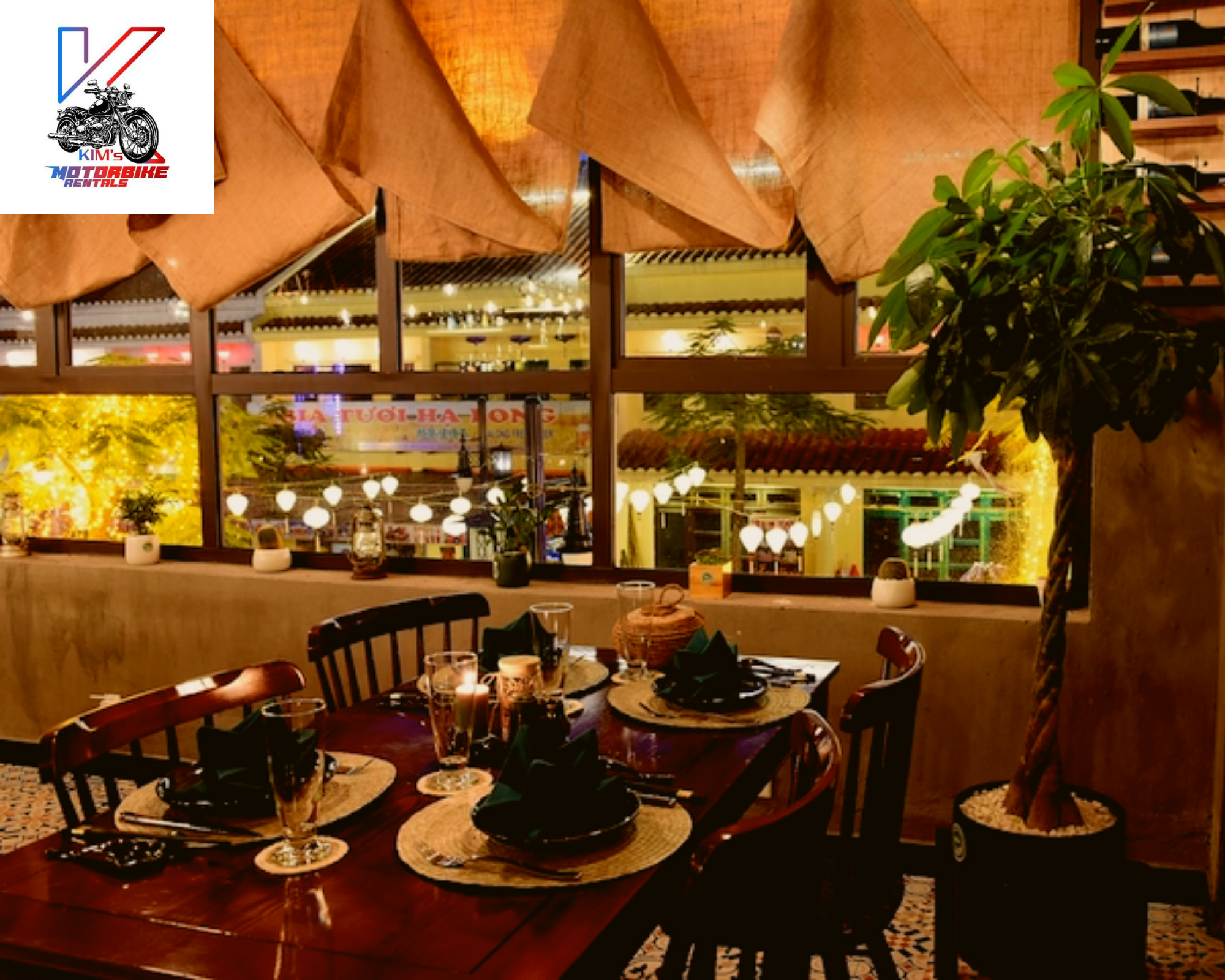 (address: 104 Bai Chay, Ha Long)
Above are some cheap and good quality restaurants in Ha Long tourist spot  that are well appreciated by foreign tourists:
3. Kim's Motorbike Rental motorbike rental service – with you all the way to explore Ha Long tourist spot  
If you don't take a tour, the best way is to rent a motorbike to travel, because cars during peak hours are easy to get stuck in traffic, moreover, traveling by motorbike will help you have a full experience, more authentic in Ha Long tourist spot .
But, where is a good place to rent a motorbike?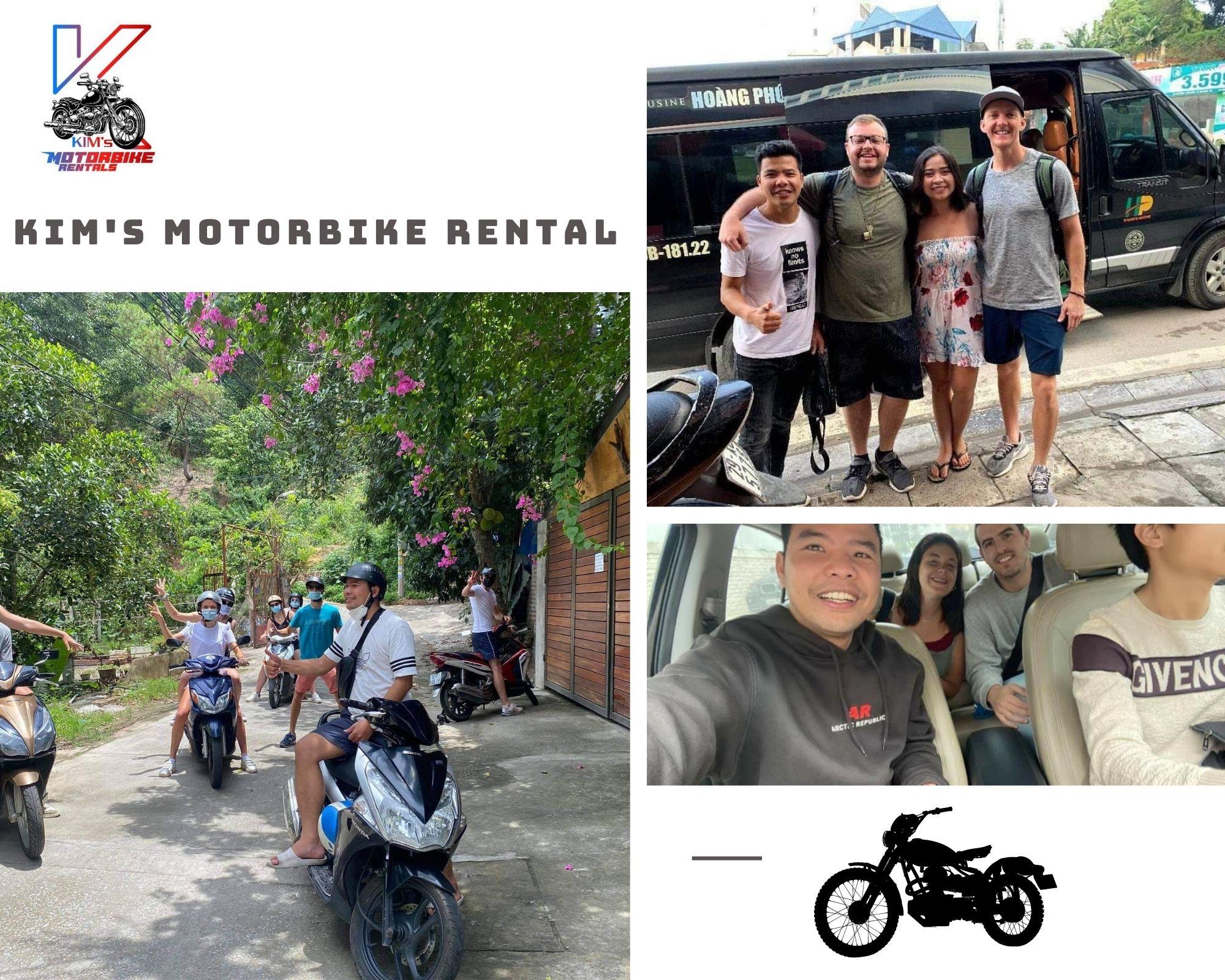 Come to Kim's Motorbike Rental's motorbike rental service, we always provide safe, quality cars, satisfy customers, quick rental procedures, complete documents with extremely cheap prices, helping You have a really enjoyable stay in Ha Long.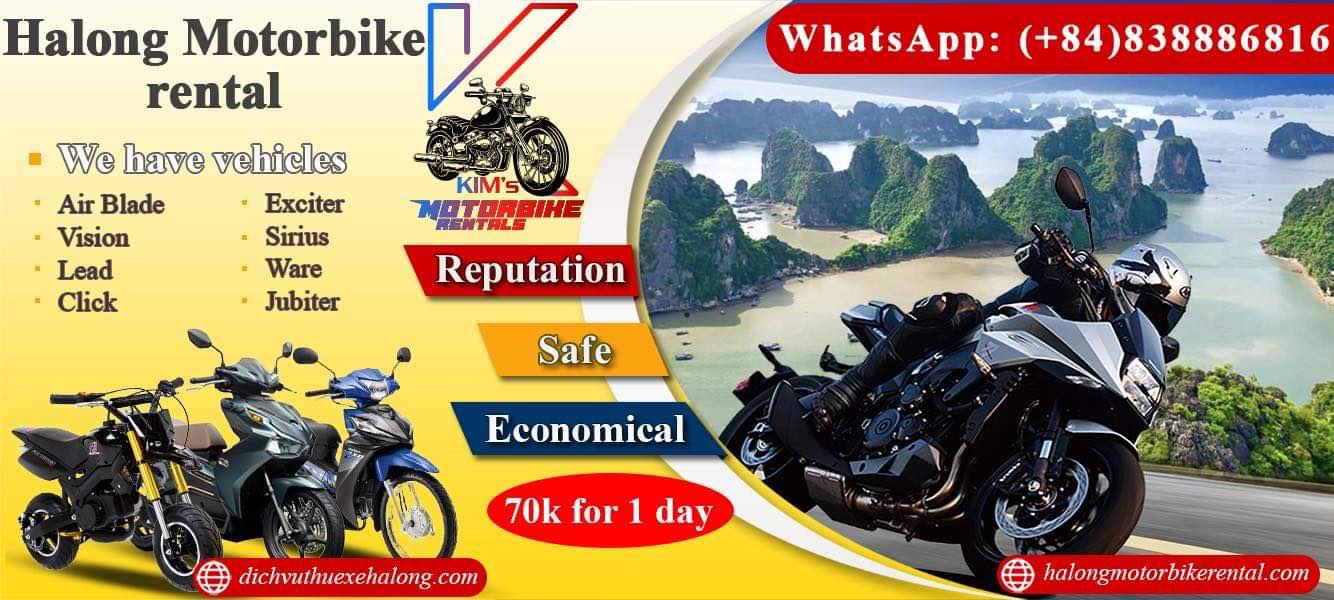 Please contact with us:
>>>Ha Long – Sapa bus tickets booking location
<<< Book HaLong – Hanoi bus tickets with high quality
1. Dịch vụ cho thuê xe máy Hạ Long
2. Dịch vụ book vé tàu thăm Vịnh Hạ Long